Selling your Real Estate at Auction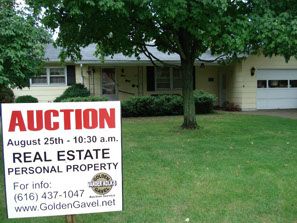 Real estate auctions are a successful part of our business. The Auction method of marketing has many advantages to sellers who are  motivated to sell their property. Using our professional  and dedicated auctioneer services to bring your Real Estate to auction may be the best decision you ever make. Auctions are a powerful way to sell goods and services. When that method is applied to your Real Estate transaction using our professional auctioneers you will be pleased with the results.
Advantages of Real Estate Auctions
Time
The time frame of Auctions and a set date of sale make the overall transaction time much shorter.
Lower your overhead
Shorter transaction time eliminates overhead costs of owning the property including taxes, utilities, insurance and general upkeep.
Aggressive marketing
The property is marketed and exposed to a large audience. Aggressiveness of real estate auctions marketing promotes your property to it's full potential.
Competitive bidding
Competitive bidding ensures true market value. Competition also positively affects the overall outcome and final bid price.
No Risk
Seller has the right to accept our refuse the final bid price.
No contingencies
The final bid price is the offer, there is no waiting for the buyer to sell their home, make the seller put in a new water heater, etc. When we say sold, we mean sold.
Effeciency
When combined with personal property, real estate auctions can be very efficient. Marketing your personal property with your real estate maximizes your return on your marketing expenses. Getting merchandise ready for sale also cleans up your property.
 Contact Us for a no obligation Real Estate Auction consultation.