simulcast auctions – LIVE internet bidding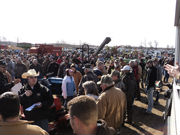 Simulcast auctions are a great way to broaden your auction audience. Originally for larger items and items that have the appeal of a broader audience. Simulcast auctions are fast becoming the solution to maximizing the auction dollar.
How simulcast auction work
Items are brought to live auction in the traditional manner, advertised in traditional media streams and sold by the live-cry method. In addition to the standard method, these items are presented to on-line bidders via web-casting real time with the live auction. These bidders are required to register with a valid credit card and they are ready to bid. The online simulcast auction portion follows along with the live auction, online bidders place their bids, the bid is relayed to a Vander Kolk Auction and Appraisal representative and a bid is placed on behalf of the cyber-bidders.
After the auction the online bidders are invoiced. Payment arrangements are made by email or telephone. Item pickup/shipping terms are spelled out prior to the auction an assistance with getting the item(s) to their final destination is sometimes necessary.
The simulcast auctions method can be applied to any live auction situation.
Simulcast auctions method can be applied to just a few items in your auction or to every lot. By adding this element to your auction you can potentially reach a national and even international audience. Be sure to ask about this option for your auction.
Simulcast auctions providers
There are many online bidding providers to assist auctioneers with simulcast auction. Are preferred providers are HiBid and Auctionzip Live