Using the Auction process to settle your estate
The settling of an estate can be an overwhelming task.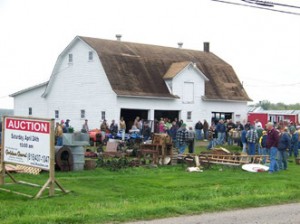 What has taken a family member or friend a lifetime to accumulate can be physically and emotionally difficult to manage and disperse in such a relatively short time.
 When the time comes to settle an estate, you will face a number of decisions, we can help determine the best avenue for you. With extensive experience in many auction and other sale formats, our goal is to assist you in determining the best possible outcome of every sale, and help navigate you through the difficult process of settling an estate.
• We explain the best strategies to manage the sale of different types of physical assets in the estate, including real estate.
 • We help you choose the best options to coordinate sales and maximize value to the estate's beneficiaries.
• We help you by providing reliable information and guidance to aid in effectively carrying out your duties as executor.
There are well established options for the dispersal of cash and financial investments…
 But what about the physical assets?
Liquidation of personal assets such as real estate, furniture, collectibles, works of art, vehicles, equipment, and other personal effects are not generally handled directly by appointed executors, that's where we come in.
 Our company is a full service auction company.
We can make settling your estate a much easier process.
 Besides auctioneering services we provide:
- Complete appraisal services
- Complete set-up and cleanup services.
As CERTIFIED ESTATE SPECIALISTS our extensive knowledge and resources is an invaluable asset in marketing and sale of personal property through auction or other means. Vander Kolk Auction & Appraisal Co. will assess your particular situation and make our recommendation as to which direction should be taken.