At Vander Kolk Auction and Appraisal Co. we specialize in Farm, Industrial and Heavy Equipment auctions.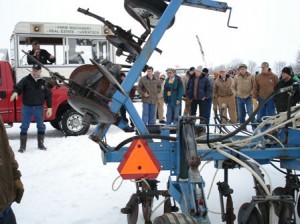 We conduct many equipment auctions each year , including the annual Spring, Fall and Winter Consignment Auctions at Voelker Bros. in Big Rapids, Michigan.
There are many life and business events that make people consider holding or attending a farm machinery and heavy equipment auction. Some of these may include the need to:
- Liquidate all assets due to retirement, death in the family or focusing efforts on another pursuit.
Let us help you through this time. Selling assets in their entirety can be a time consuming and long process. We make that process easier with our knowledge of equipment auction and help guide you through the process.
- Starting your large or small scale operation from scratch without purchasing brand new equipment
Starting can be an overwhelming task and finding good used equipment to begin your endeavor with is a job in itself. Consider Equipment auctions for your equipment search.
- Liquidate unused assets
Items that sit around without use quickly become a liability. Turn unused assets into cash with the auction method.
- Upgrading current machines
Upgrading your equipment is a constant chore, auctions can help with that process. Cash in on old unused equipment and find the replacement at auction.
We here to help with your Farm and Equipment Auctions needs
If you have any of these concerns, take advantage of Vander Kolk Auction Company's decades of experience, extensive industry knowledge and exceptional service to get the best possible return on your investment. When you seek out a Vander Kolk  equipment auction for your buying and selling needs, we walk you through the process, assessing your needs at every step, to assure that we make informed recommendations and decisions to maximize the success of your sale or purchase.
As your complete auction resource, we have some great information and resources to offer you on the subject of machinery and equipment auctions. Contact Us today for your free consultation.