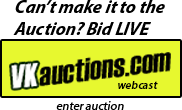 Bob VanBeek has been a firearm enthusiast and collector for over 30 years. He has decided to liquidate his collection and will be offered at public auction. Firearms, ammunition, antiques and related items. This auction will be conducted live and in-person as well as simulcast online bidding will be offered.
Auction Terms & Conditions
Online purchases Item Pick-up: Friday November 24th until 5pm and Saturday November 25th 9:30am-12pm
Please note: The items in this auction are located on-site. Items must be picked up or arranged for during the allotted time, no exceptions.
Handgun purchases: handguns will be brought to Centershot Gun Range for processing and pick-up. There is a $35 per gun processing and handling fee.
Buyer's Premium:
A 10% Buyer's Premium is added to all buyer totals for each Item purchased
An additional 5% will be added for online bids.
Acceptance: By registering and bidding on this auction you accept responsibility for payment of the final bid.
Payment & Removal:
All items must be paid for before removing. All items must be removed by the deadline unless other arrangements have been made with the auction company. All merchandise not removed by deadline date will be considered abandoned and will be disposed off or resold and the bidder will be charged for the purchase. Items may be paid for at the time of pickup by cash, check with ID or credit card, credit card payment will require an additional 4% charge. Purchases of $2000 or more must be paid by cash or wire transfer unless otherwise arranged. Credit card payments will not be allowed on titled items.
Shipping:
In addition to shipping charges, packaging and handling charges will apply. $15 per package plus shippers cost. We do NOT ship firearms.
Loading: We will have some personnel available to assist you, we do not take responsibility for loading your items. Please plan according to load and secure your items.
All high bids are considered legal binding contracts and all sales are final. All merchandise is sold 'As Is' and 'Where Is' without warranties or guarantees of any kind. Buyers shall rely entirely upon their own information and inspection. Buyers acknowledge the inherent risks of buying AS-IS. Item descriptions including hours, mileage, condition, size or age are believed to be correct but Vander Kolk Auction & Appraisal does not assume responsibility for errors. Buyer is to rely on their own inspection of items.