Using the auction method to buy or sell heavy equipment is a wise decision.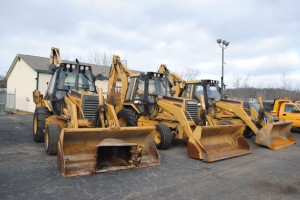 If you are looking to sell that one piece of unused equipment or it's time to liquidate the business, you can trust Vander Kolk Auction and Appraisal to sell your heavy equipment.
We have been selling large equipment for decades and have the experience necessary to make your auction successful. We will utilize our knowledge and assess your particular situation and offer a solution that is right for you in selling your valuable assets.
Looking to sell or upgrade your Heavy Equipment? Consider Auction
Selling your heavy equipment or other business assets at auction is a fast and effective way to turn that iron into cash.  By using an auction to market and sell you heavy equipment or other assets, you set the date of sale. Take the hassle out of selling your piece.
One piece…or all of your equipment
Your options for selling your heavy equipment at auction are many. We can market and sell all of the assets on your yard or just a single item you may want to upgrade or is no longer being used.
Sell it all at auction.
If you have made the decision to discontinue business, or maybe you just want all new stuff, we can conduct a comprehensive auction for you. A marketing plan is created and executed that will maximize your return on your heavy equipment.
Selling a piece or two at auction.
You have options if you have one piece or a few pieces you would like to sell. These items can be added to a larger auction with like items or they could be sold online independently. We can sell your piece online using our website or the item could be placed on Auctiontime.com
Contact us for details about selling your heavy equipment or industrial items at auction.