Live Auction Buyer Registration
The auction buyer registration process for all Vander Kolk Auctions is very simple, you will need to provide 2 things:
Auction buyer registration is necessary to bid at our auctions
1. A valid state identification
2. Your signature verifying your agreement to our terms of Auction.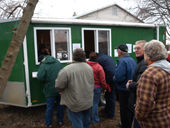 When arriving at the auction, proceed directly to our office (there should be a sign directing you). The clerk will make a photo copy of your i.d., along with our terms of auction, and you will be required to provide your signature. You will then be issued your bidder number and you are ready to bid! Please do not forget to register, you cannot bid without a proper bidder's card.
Live auction pre-registration – in certain cases we will be allowing pre-registration of a particular auction, via our website. If pre-registration is allowed there will be a "pre-registration" button on the home page for the auction listing (found through our auction calendar).
Good Luck, and happy bidding!
Like us on facebook