The online auctions method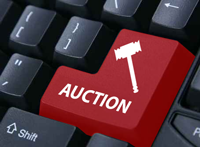 Through the use of online auctions providers and our website we bring unique items and smaller quantities of items to a vast audience. Each item is professionally listed and presented in a manner that enhances the outcome of the listing.
The online auction method is marketed and presented to public much like a live auction. Bidders are directed by our website to the registration and may leave bids in advance or bid on items right up until the items closes.
Why use online auctions?
Unique items
Sometimes items that are valuable are only valuable to a small audience, by utilizing an online auction your audience can be broadened.
Item location
If the items you would like to sell are located somewhere that is not easily accessible by a large crowd, online auctions may be your best option. Items can be virtually 'displayed' and bid on, items pickup times can be staggered to eliminate congestion.
Amount of items
While both Live and Online auctions have static event costs, in some cases a small group of items or small estate can better served by selling online.
Payment and pick-up
After the auction bidders are emailed an invoice and pick-up times and instructions. Customers may be billed via credit card or may elect to pay in person depending on the situation.
Shipping
In some cases we may be required to provide shipping, we handle all the necessary steps for our customers.
Costs
Costs for conducting online auctions are very similar to conducting a live auction, but each situation is different. Contact us to learn more about the cost of conducting an auction.
This may be the solution you're looking for.
To determine if online only auctions will best serve your needs contact us today. We will guide you through the decision making process.